Limited Edition Print 955
Limited print with signature
Payment options: 


Delivery countries: 
Germany, Austria, Belgium, Czech Republic, Denmark, Finland, France, Italy, Luxembourg, more on request
Description
Signed reproduction as print on canvas.
Impressive work now for all living spaces.
Size after selection

Signed and dated by the artist Eugen Dick

With certificate of authenticity

Picture on canvas with wooden stretcher frame (no plywood, no chipboard)

Stable by hand on 4 cm thick natural wood frames

Surface is matt

Ready to hang

Printed in Germany

All products are produced for you after ordering

The production takes 5-7 working days.
Customer Photos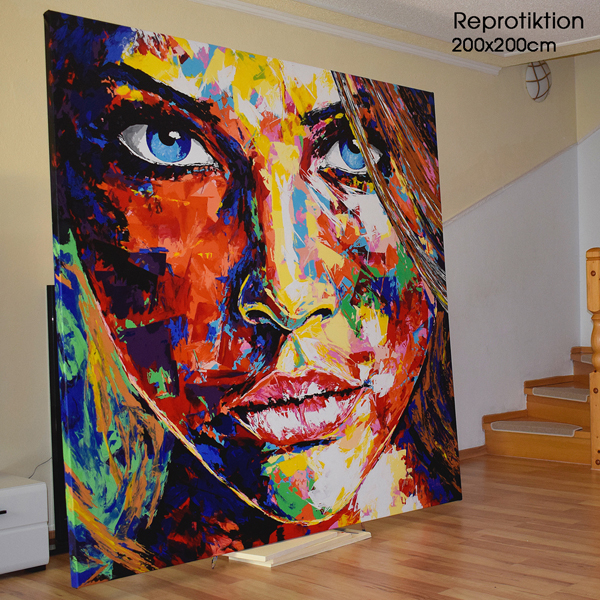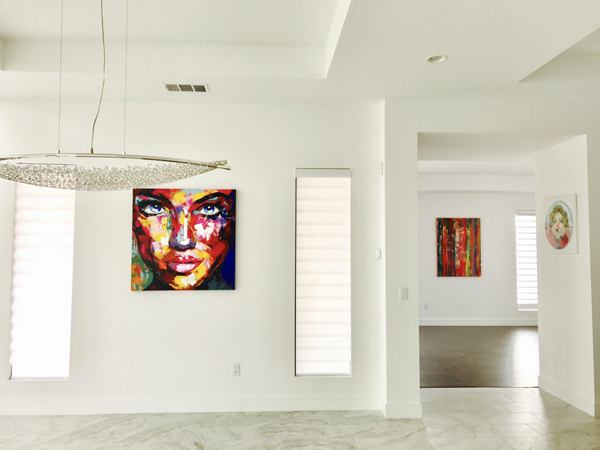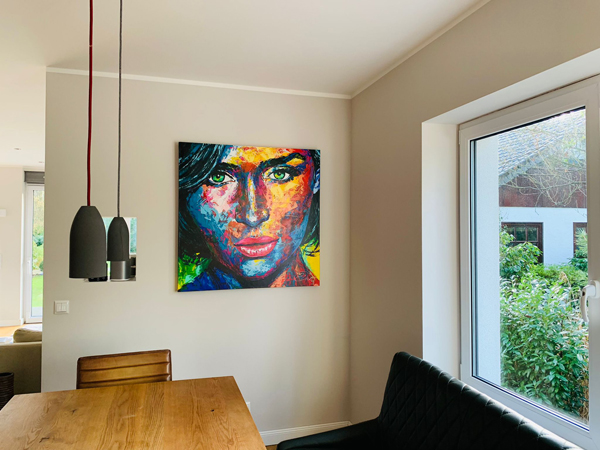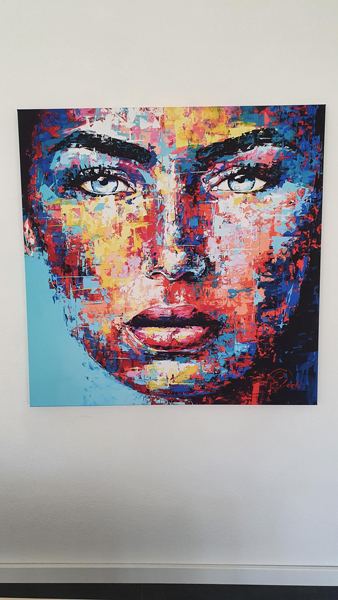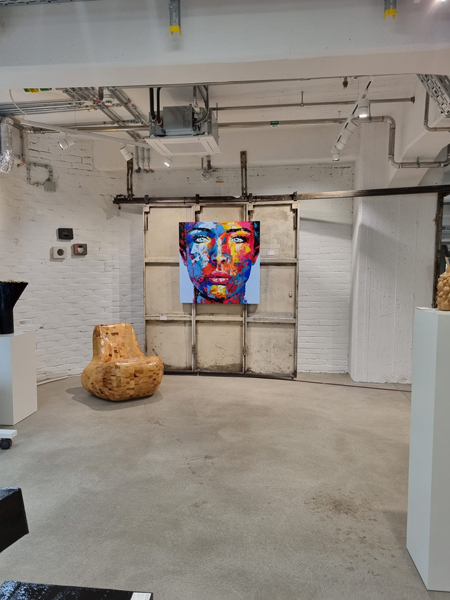 Information about the artist
Eugen Dick is a German artist famous for his captivating portraits. He was talented in painting as a child and has perfected his skills over time. During his studies, he specialized in portrait painting and focuses particularly on female faces and their emotions. With his spatula technique and acrylic paints on large canvases, he brings his artworks to life and impressively portrays the emotions of his models.
Eugen Dick works as a full-time painter and has participated in numerous exhibitions in Germany and other countries throughout his career. He has a large fan base and is highly valued by art collectors. His artworks are not only aesthetically appealing but also encourage reflection on complex emotions and personalities.
What is a canvas?
A canvas print is a reproduction of an image that has been printed onto a canvas. Typically, the canvas is made from cotton, linen, or a synthetic material. It is a popular medium for artists and photographers to reproduce their works in a high-quality and durable manner.
There are different types of canvas prints, including inkjet prints and giclée prints. Inkjet prints use inkjet technology to print the image onto the canvas. Giclée prints use high-quality inks and specialized printers to achieve a very fine resolution and color accuracy. Both types of prints are durable and can last for many years if properly cared for.
Canvas prints can be produced in various sizes and formats and are usually ready to hang. They are a popular choice for living rooms, bedrooms, offices, and other spaces to display artwork and photographs in an attractive and appealing way. A canvas print can be a great gift for friends and family who appreciate art and photography.
Quality & Material Canvas
Our passion for art is reflected in the quality of our canvas prints. We take pride in offering you stylish and high-quality canvas prints that will inspire you.
Our focus is on the brilliance of FineArt printing. This technology allows us to bring the colors and details of your favorite photo to the canvas and achieve an impressive reproduction.
To produce our canvas prints, we only use the best quality canvas materials. Our artist canvas is made of cotton and polyester, providing a smooth and even surface on which the print stands out perfectly.
Our stretcher bars are made of real wood that is FSC certified to ensure sustainable production. Each frame is carefully stretched and attached by our experienced craftsmen to ensure that your canvas print is perfectly stretched and aligned.
We also place great importance on the safety of our customers and use safe inks free of harmful chemicals. Our production is carried out exclusively on certified materials to ensure that we contribute to sustainability.
We want you to be completely satisfied with your canvas print, which is why we offer a 100% satisfaction guarantee. If for any reason you are not satisfied with your purchase, you can order without risk and we will do everything we can to resolve the issue.
Our goal is to produce printed canvas prints with attention to detail that will exceed your expectations. We hope you will enjoy the beauty and quality of our canvas prints and look forward to delivering a unique and individual work of art to you.
Our focus is on photo canvases:
- Real artist canvas
- 340gsm Cotton and Polyester
- Safe inks
- 100% Satisfaction Guarantee
Canvas with real wood stretcher:
- Made of solid spruce wood
- FSC certified
- With wooden wedges
- 4 cm image depth
- Naturally without harmful substances
Payment Methods
The security of your data and payments is of high importance to us. That is why we offer you various payment options that comply with all strict security guidelines.
Through SSL encryption in our secure payment system, your personal data is optimally protected during transmission. So you can shop with confidence and add your desired items to the shopping cart.
PayPal
Another convenient and secure payment option is provided through PayPal. With a PayPal account, you can pay for your purchases quickly and easily without having to enter your bank or credit card details.
Transfer
Of course, it is also possible to make your payment by bank transfer. After you have placed your order, we will send you an order confirmation with all the necessary information for the transfer.
Debit charge (PayPal Service)
We also offer the option of paying by direct debit, which is equally safe and convenient. You can authorize your payment quickly and easily, with the assurance that we handle your data with care.
Credit card (PayPal Service)
Regarding payment, we also offer the option to use Visa or Mastercard. We accept both credit cards and ensure a prompt and secure transaction.
 If you have any questions or problems, we are at your disposal (contact form). We look forward to your order!

Shipping & Returns
What are the delivery times and shipping costs?
We offer flexible delivery options for our products, depending on the type of product, either through Hermes or DHL. We want to ensure that you receive all the desired items and therefore only charge shipping costs once per order. 
up to 50,00 € - Shipping costs 9,99 €
from 50,01 € to 300,00 € - Shipping costs 19,99 €
from 300,01€ - Shipping costs 0,00 €
Additionally, we offer the option to specify a different delivery address during the ordering process.
Please note that the production time is stated in the product description, and you should allow 1-3 business days for shipping.
Return
You can return our printed items such as canvases, posters, limited prints, and acrylic products within 14 days without giving any reason in accordance with the statutory right of withdrawal. Please note that hand-painted reproductions and pictures made to your individual specifications are excluded from this return option.
Customers who bought this product also bought:
20 other products in the same category: